As tile artists and craftsman, we aim to perfect our ceramic process and fine-tune our knowledge of the craft. Every detail is carefully considered. Our signature is exceptional quality in all aspects of our work. View a glimpse into our process below.
Video
How We Make Our Tiles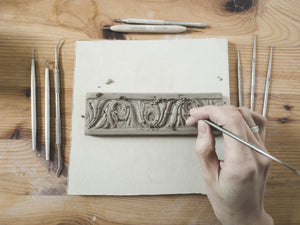 Original Designs
Hand-carved by Artists
Historically inspired or created from nature, each original design has been carved and created in our tile studio.
MADE IN CANADA
Pressed and Shaped by Hand
Each handmade tile is crafted from the highest quality, white ceramic stoneware clay, pressed into a plaster mold made from our original sculpture and individually dipped into our artisanal glaze colours.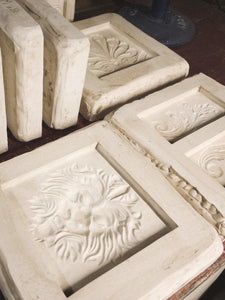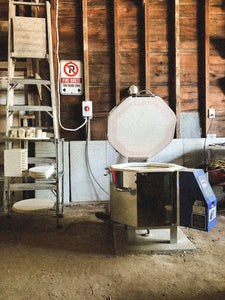 Timeless Quality
Kiln Fired in Small Batches
Once the tiles are initially created, they require several days to slowly dry before they can be fired in the tile oven (also known as the kiln).
This first trip to the kiln is called the biscuit firing and hardens the surface in preparation for the colour (or glaze) to be applied.
After the biscuit firing, your chosen glaze colours are applied by hand through a dip method.
Next, the tiles are re-fired in the kiln to 2200 degrees Celsius. This high temperature firing is what produces our unique colours and high-quality ceramic material.
When the tiles come out of the glaze firing, we inspect them carefully and package them up safely for their next adventure to your home or project location.
Start Your Project With Us
Learn more about our design services for custom projects or request a free consultation.
Learn More